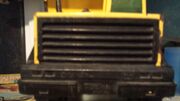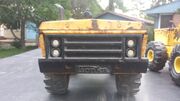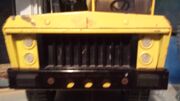 Write the first paragraph of your page here.
Basic Information
Edit
The first generation was a 2 piece bumper with rubber bumper guards and four clear headlights inserted into two metal slots, The second generation introduced late 1977 was a 1 piece bumper with white headlights inserted into the plastic since the bumper cover the entire front of the truck. The third generation was basically the same cab but with the entire bumper (including the headlights) was one big black piece, Then in about 1983 the cab was changed to be one big piece with no headlights then finally in about 1990 the back hoe and crane truck had a different bumper with a gird like grill and I think the dump truck and cement mixer kept the 4th generation cab. Also note that the newer trucks all had plastic all the way around the cab
(Unknown)
Edit
Write the second section of your page here.
Ad blocker interference detected!
Wikia is a free-to-use site that makes money from advertising. We have a modified experience for viewers using ad blockers

Wikia is not accessible if you've made further modifications. Remove the custom ad blocker rule(s) and the page will load as expected.